The September meeting of Bridger Mountain Scribes will be held on Monday, September 9, 2019 from 11 AM to 1 PM at the library in the small conference room.
Thank you, Rose, for reserving the room for our next two meetings. Mark your calendar: We will meet from 11 AM to 1 PM on Monday, September 9, and also on Monday, October 14.
There were ten of us who attended our August meeting! The topic for the meeting was glair. We mixed up our paint — tubes of watercolor or gouaches — and laid down a few washes on the left side of our paper, then added a drop or two of glair to our paints and laid down a few more washes on the right side of the paper. While our papers were drying, I donned my Home Economics cap and demonstrated how to make glair. 
A couple of us shared our year-long project, and we discussed some technical problems with the book form, and came up with several solutions.
The washes we had made were now dry. We got out calligraphy pens and experimented with lettering over those washes, comparing how the paint coming out of the pen reacted with the wash layer underneath. Many of were able to get sharper lines of lettering on the washes that contained glair.

Didn't we do some fun stuff?: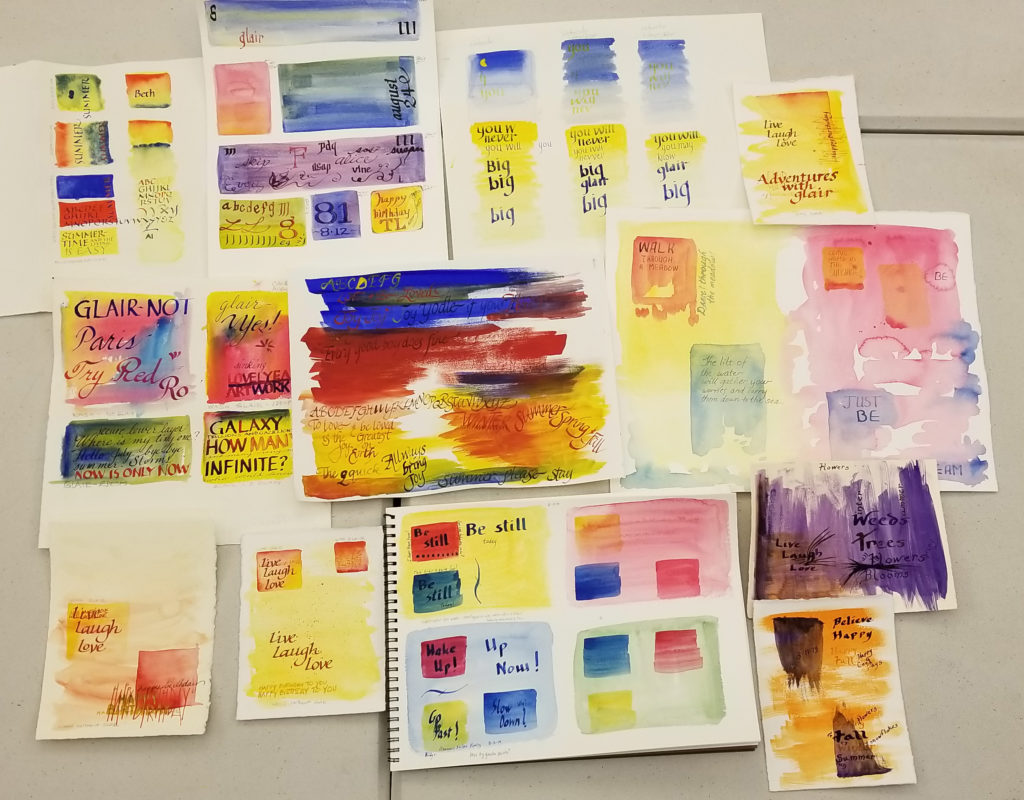 Here's what's on the agenda for our next meeting on September 9:
Barb will lead a tutorial on layering decorative papers with our completed calligraphy to make a card or small framed piece. You'll need to bring a finished small piece of calligraphy, some decorative papers, a card or paper base for the collage. (What else should we bring, Barb?)
Rose will bring her tunnel book, which could be another future-meeting activity.
Everyone should bring their year-long project in whatever stage it's in. Be prepared to talk about your process!
As always, bring whatever else you've been working on.