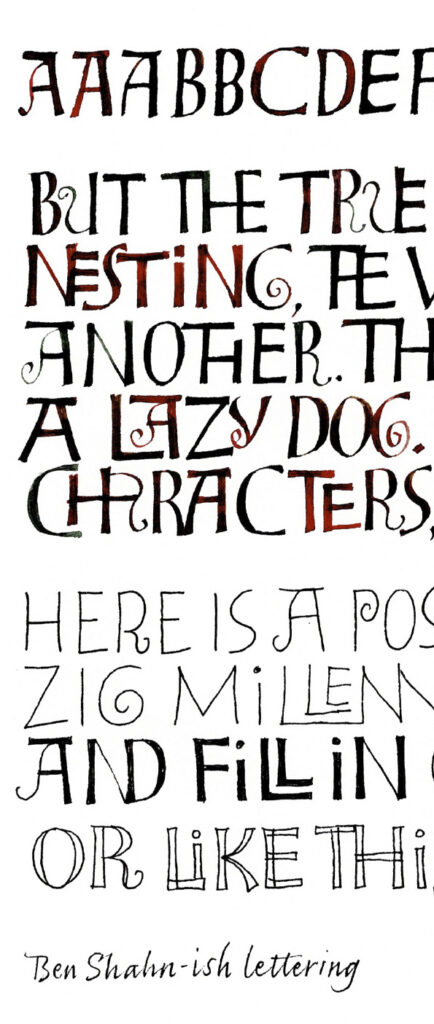 Mark your calendars! Our next meeting will take place on Monday, July 12 from 11:00 AM to 1:00 PM via Zoom.
In June, we met on Zoom to explore Ben Shahn lettering and Bister inks. I shared some of Shahn's life and work, and prepared an exemplar of sorts. It included an alphabet, but also examples of ligatures, shared stems, and nested letters. Also shown were some examples of versions drawn with a fine pointed marker. We also discussed the properties and possibilities of Bister inks. Finally, I demonstrated versions of Shahn lettering using 3 strokes instead of two, and at about 1 inch high with a 3mm nib.
We had a good time and barely scratched the surface, so we will continue this study at our July 12 meeting. Choose your weapon, um, writing tool. Last month we worked with 1/2-inch tall letters and a 1mm broad-edge nib. But you may want to work larger, and with a brush, pen, marker, or even pencil. Bring a text that lends itself to two sizes of lettering and we'll work on combining them at the next meeting.
If you plan to attend in July and want to catch up, email me for a link to the YouTube recording of the June meeting.
I will provide exemplar handout and guidelines sheet to those who attend the Zoom meeting on July 12.
I'll send out a Zoom invitation a week before the meeting. If you'd like to attend and are not being included in the regular group emails, write to me (callibeth@gmail.com) and I'll include you in the invitation.